Transportation Engineering Research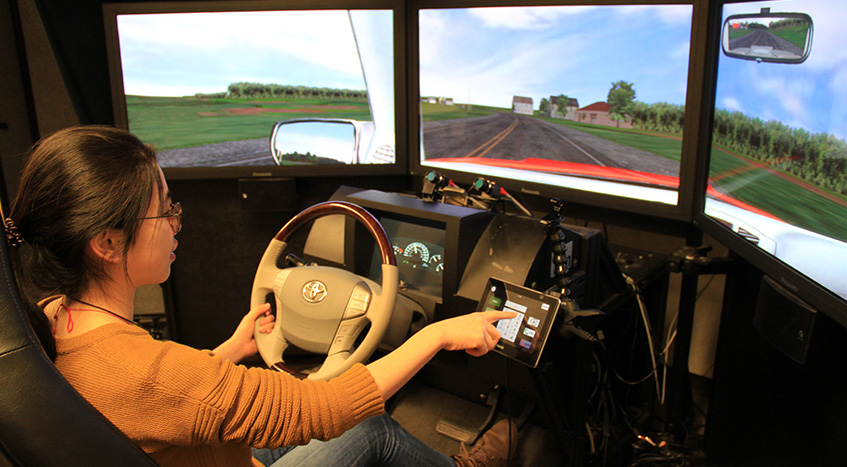 Graduate students perform a simulator study in the Human Factors and Statistical Modeling Lab.
Overview
Transportation engineering researchers develop solutions to pressing challenges in the transportation industry, from goods delivery in urban areas to traffic congestion. Due to the transportation demands of the modern world, this research area continues to grow at a rapid pace. Recent developments include a new research center, the Supply Chain Transportation and Logistics (SCTL) Center, and $14 million in research funding from USDOT to enable the PacTrans Center to improve the mobility of people and goods across the Pacific Northwest.
Research covers a variety of topics, including transportation planning, traffic system operations, logistics and freight transportation, transportation network system analysis, intelligent transportation systems, transit system planning, travel behavior and demand modeling, resilient infrastructure systems, traffic safety, human factors analysis and sustainable transportation infrastructure design. CEE's transportation program works closely with industry and government to ensure that relevant transportation topics are covered in both research agendas and the curriculum. UW CEE's transportation engineering program is internationally recognized for its quality in research and education. The program has well-established connections with universities and transportation research institutes in China, Japan and many European countries.
Students visit the SGL Automotive Carbon Fibers facility to learn about using ultralight carbon fiber reinforced plastic in vehicle production.
Research Topics
Labs & Research Groups
CEE faculty oversee labs and research groups, where they investigate a variety of critical problems related to transportation engineering. Undergraduate and graduate students are encouraged to participate in research.
Centers
UW CEE hosts several centers, funded by industry and government. The centers headquarter research on specific themes and act as hubs connecting faculty and students with resources to support research, education and outreach activities.
Professional Societies
ASCE Transportation & Development Institute
Urban and Regional Information Systems Association (URISA)
Institute of Transportation Engineers
Transportation Research Board
American Planning Association
Transportation Club of Seattle
Transportation Club of Tacoma
Council of Supply Chain Management Professionals (CSCMP)
Degree Programs
Latest News