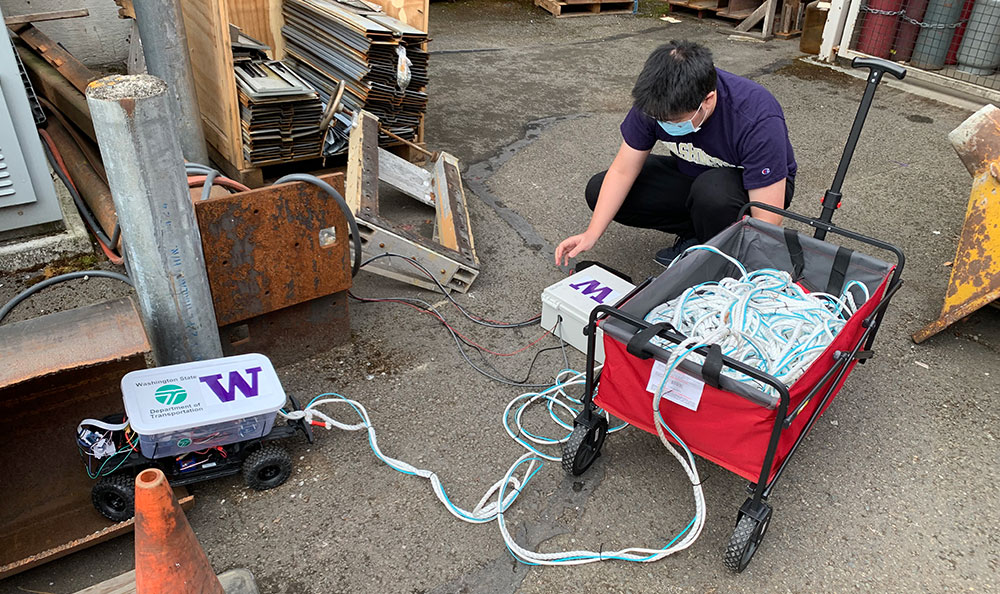 One of the most memorable educational experiences for many students is completing a capstone design project.
Capstone design projects are a culmination of learning, enabling seniors to apply the knowledge and hands-on technical skills they've gained through coursework and lab sessions. Working in teams with classmates, and guided by faculty advisers and industry partners, students undertake real-world engineering design projects, for which they produce a final deliverable.
Course offerings
To meet students' various interests, capstone design courses are offered in a variety of subject areas and topics. In addition to traditional capstone design courses, where students in a larger class work in small groups on variations of the same project, industry capstone projects typically feature a small group of students collaborating on one unique project. Both types of capstone projects entail working closely with faculty and industry mentors. Some examples of capstone projects are provided below, organized by subject area:
Structural-Geotechnical capstones

CEE 442: Design of Structural & Foundation Systems in a Building

Student teams are given architectural drawings for a new More Hall and work within the constraints imposed by the architectural design to develop different structural and foundation systems. The design process includes determining design loads, schematic design of gravity and lateral load carrying structural systems and foundation elements. Learn more

Boeing capstone: Students design a fluid transport bracket (industry capstone, 2020)

In collaboration with Boeing, a team of students worked to design, fabricate and test a fluid transport backet capable of supporting a significant structural load while adhering to specific space constraints.

Students collaborated with the City of Fife to redesign an existing municipal building as a vertical evacuation structure to provide life safety in the event of a tsunami or lahar. Students learned to characterize the various hazards at potential sites, work with city officials on building layout, and design the structural system to withstand both day-to-day operational loads and extreme loading events.

Water Resources and Hydraulic Engineering capstones

CEE 444: Capstone Design Project

Students work on a design project, which often involves highway runoff control, low-impact development, storm water detention, fish passage design and water sustainability challenges. Clients are often state, city, or private entities.

WSDOT capstone: Students design a rover to inspect culverts (industry capstone, 2021)

In collaboration with the Washington Department of Transportation, students designed a rover, called the HydroCUB, that can enter sewer pipes, culverts or other tight spaces for inspection purposes.

Environmental Engineering capstone

CEE 445: Capstone Design Project

A recent project that students worked on addressed the release of arsenic at a major municipal landfill site collocated with a renewable gas refinery. Student teams worked with the King County Solid Waste Division to develop a reverse osmosis system suitable for treatment.

Construction, Energy and Sustainable Infrastructure, and Transportation capstones

Below are a few examples of recent, past and upcoming projects:

CEE 441: Bridge engineering

Students develop construction engineering submittals for a precast concrete girder bridge located along I-90 in the Snoqualmie Pass vicinity. Teams submit work packages that include site preparation and earthwork, drilled shaft construction, bridge deck formwork and more.

CEE 441: Highway construction

Student teams answer a Washington State Department of Transportation request for proposal for a major I-5 design-build project. Project deliverables detail construction methods, lane closures, traffic impacts and a public information campaign.

CEE 441: Solar power (2021)

Students learn about the fundamentals of electric power delivery for detached single-family homes while designing a rooftop solar panel installation or ground mounted array. As part of the project, students outline capacity requirements, environmental impacts and project layout.

CEE 441: Electric vehicles (2022)

Students worked with the City of Mount Vernon to design Washington state's largest electric vehicle charging facility, to be installed at the city's new library and community center.

Grand Challenges Impact Lab

Also meeting capstone course requirements is the

Grand Challenges Impact Lab (GCIL)

, which is offered via two pathways:

Seattle

A hands-on learning course where students use design thinking to create, prototype and test solutions to problems facing Seattle and Washington State. The topics for spring 2022 included homelessness, environmental sustainability and HIV/AIDS.

India

The GCIL India Study Abroad Program plans to resume in winter 2023. Students spend an academic quarter in India addressing real-world problems and increasing their cultural awareness.
Sponsor an industry capstone project
Depending on the needs of industry, these capstone projects are continually changing. If you have an engineering problem suitable for entry-level engineers and would like to work closely with a student team and faculty member to produce a final product, please contact Jill Kaatz, CoE Industry Capstone Program Director: jmd4@uw.edu or 206-221-7955. Learn more about industry capstone projects.
Past CEE industry sponsored capstone projects