With your degree specializing in Construction Engineering, you can embark on large-scale public works projects that benefit millions of people. The presentations below showcase in detailed photos and graphics major projects dependent on the work of construction engineers.
SR 520 pontoon construction
Kiewit-General will build and install the concrete pontoons for the new SR 520 bridge through two major contracts which total about $1 billion. An initial stage of that process involves a $367 million project with WSDOT located in Aberdeen, WA. Over the next three years, the initial set of 33 pontoons will be constructed there with the larger pontoons weighing in at approximately 11,000 tons each. All of this will happen on a 55 acre site on the Chehalis River. Before construction could begin on the pontoons, Kiewit-General constructed a casting basin which was required prior to building the pontoons. Kiewit's design for the casting basin reduced the costs by about $100M based on an earlier WSDOT design and is largely featured in this presentation.
Slideshow Presentation by Joe Mahoney
Sea to sky highway: The road to the 2010 Winter Olympics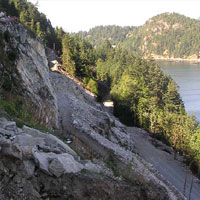 The 95 km long section of Highway 99 from West Vancouver to Whistler needed capacity and safety improvements before the 2010 Winter Olympics. 48 new bridges and interchanges, 219 mechanically stabilized earth retaining walls , 2.4 million m3 of earthworks and 450,000 tonnes of hot mix asphalt were added. These improvements were achieved via a performance based Design-Build-Finance-Operate (DBFO) public private partnership.
Slideshow Presentation by Joe Mahoney
Port Mann Bridge: Solving Vancouver's traffic problems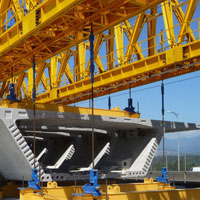 This $2.5 billion project is scheduled to be operational in late 2012. It will replace a 45 year old 5-lane bridge with a 10-lane bridge that includes Rapid Bus service from Langley to Burnaby SkyTrain, and will accommodate future installation of light rapid transit underneath the main deck.
Slideshow Presentation by Joe Mahoney
The Panama Canal: A civil engineering icon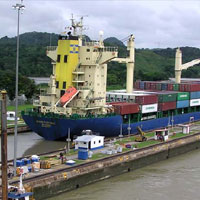 The Panama Canal is an essential component of the world's shipping infrastructure and the the primarily economic resource for the Republic of Panama. Cargo through the Panama Canal is estimated to grow 3% per year for the next 20 years. Built in 1914, the Canal has had numerous updates throughout the century to accommodate modern shipping needs.